Kinesiology Tape Pre-Cut Strips
Rehabilitates injured muscles
Write your review
Reduces muscle fatigue
Lowers swelling
Relieves pain
Latex Free
Print
Code
Quantity Strips
Carton Quantity
40572
30cm x 5 Black
20cm x 5 Beige
60
How does kinesiology tape work?
Correctly applied kinesiology tape lifts the skin to create a small amount of space between the muscle and dermis layers of the body. This space makes room for drainage and blood flow while taking the pressure off any swelling.
How do I apply kinesiology tape on my ankle?
Make sure the area around your ankle joint is clean and dry. You'll then need to measure out two pieces before application.

Keeping the backing on, measure the first piece from your inner ankle, around the bottom of your heel, and up the other side to just above the outer ankle. Cut this piece and save it for later.

Measure the second piece starting again from the inside of your ankle. This time, measure around the back of your heel and finish on the outer side of your foot.

Remove adhesive backing and apply the tape to the measured areas – it needs to be firm, but not overly tight or loose.
If you're unsure, check the instructions inside your Elastoplast Kinesiology Tape pack.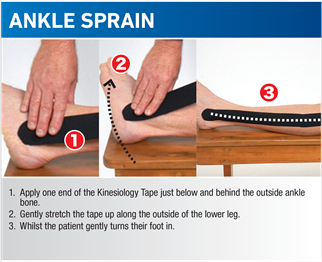 How do I use kinesiology tape for hamstring pain?
Stand and gently lean forward onto a table-height surface. Keep your knees straight.

Apply 1 piece of kinesiology tape to the middle of your upper hamstring area.

Gently stretch the tape as you apply it down your outside hamstring muscle to end below your knee joint. It needs to be firm, but not overly tight or loose.

Repeat with a second piece of tape down your inside hamstring muscle
If you're unsure, check the instructions inside your Elastoplast Kinesiology Tape pack.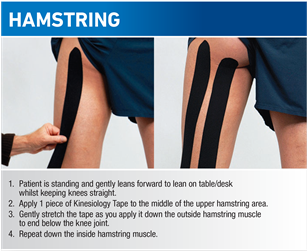 Does kinesiology tape work for tendonitis, plantar fasciitis, arthritis?
Kinesiology tape is an effective method for relieving pain and improving range of movement when suffering from tendonitis, plantar fasciitis and arthritis. Studies1 have shown proper application of kinesiology tape provides quick and effective relief.
Can you the reuse Elastoplast Kinesiology Tape?
After being removed from the skin, Kinesiology tape loses much of its adhesive quality. Reusing kinesiology tape also presents hygiene problems, especially if being used during sport. For these reasons it is not recommended to reuse kinesiology tape.
Sources
1 https://www.ncbi.nlm.nih.gov/pmc/articles/PMC4755975/
Always read the label. Use only as directed. If symptoms persist consult your healthcare professional.
Although compiled with great care, please note that the tips and advice given on this website by no means substitute medical advice and treatment. If you have or suspect a health problem, consult a doctor and follow medical advice regardless of what you have learned on this website. Always read carefully and follow the instructions for use or the leaflets of our products. For further information about our products, please contact us here.
ALWAYS READ THE LABEL. FOLLOW THE DIRECTIONS FOR USE. IF SYMPTOMS PERSIST, TALK TO YOUR HEALTHCARE PROFESSIONAL.