About
All you need to know
about first aid
First Aid - first measures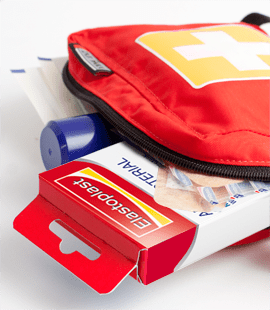 Do you have a well-stocked first aid kit?
Accidents can happen, and when they do it is important to keep a cool head. Not everyone is accustomed to seeing blood, and sometimes even something harmless such as cutting vegetables in the kitchen can lead to a deep cut that will bleed profusely. Knowing how to react when and having a well-stocked first aid kit at home and in your car will help you be prepared.
YOU CAN'T PREVENT ACCIDENTS,
BUT YOU CAN HAVE A GOOD
FIRST AID KIT AT HAND
When do I need a doctor? When to seek medical advice
Most minor cuts and bruises can be treated effectively with a first-aid kit. (see:
TREATMENT
). But how do you know if an injury needs closer attention?
We recommend to contact a medical professional in the following circumstances:
if the wound is deep and causes major bleeding
if the wound shows signs of infection such as redness, warmth, pain and swelling
if there are embedded foreign objects
in case of an animal or human bite or
in case of contact with animal blood
if the wound is in the area of the face
if there is insufficient tetanus vaccination
and of course any time you have questions or are uncertain
Recommendation: Also, seek medical advice in case of breathing problems, unconsciousness, a deep wound with a major loss of blood, a severe burn, a suspected fracture or broken bone a suspected heart attack, a severe allergic reaction, a snake, animal bite or human bite, poisoning, severe shock, any condition which turns rapidly worse.