Cuts, Grazes and Abrasions
Fortunately, the most common everyday injuries are minor wounds which can easily be attended to with a plaster.
Whether you have cut yourself while chopping some vegetables, grazed your skin while scratching along a wall or when falling on your hands – a plaster will attend to these minor injuries and help them heal better.
What kind of wound is it?
A cut with its dehiscent wound edges; © Elastoplast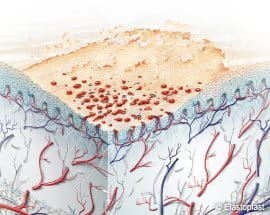 A graze or abrasion extending to nerve endings;© Elastoplast
Cuts: A cut is an area of severed skin that has been penetrated with a sharp edge, such as a knife, a small tool or the edge of a sheet of paper (paper cuts are also painful). The wound will often bleed and have slightly dehiscent wound edges.
ABRASIONS CAN HURT BECAUSE
OF ALL THE NERVE ENDINGS
WE HAVE UNDER OUR SKIN
Grazes or abrasions: A usually harmless abrasion of the upper skin layers that occurs after falling on knees, hands or elbows, or scratching over a rough surface with some skin coming off subsequently. Abrasions can be painful since the injury often extends to the many fine nerve endings subjacent to the skin.